Podcast: Play in new window | Download
Subscribe: RSS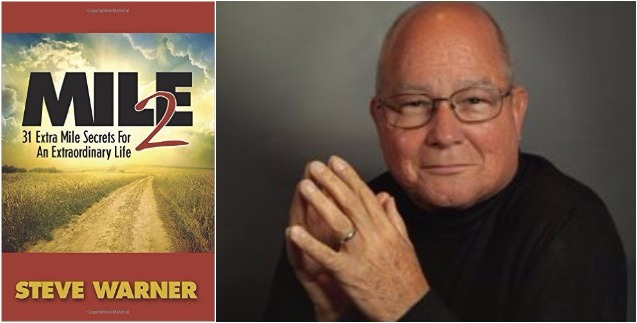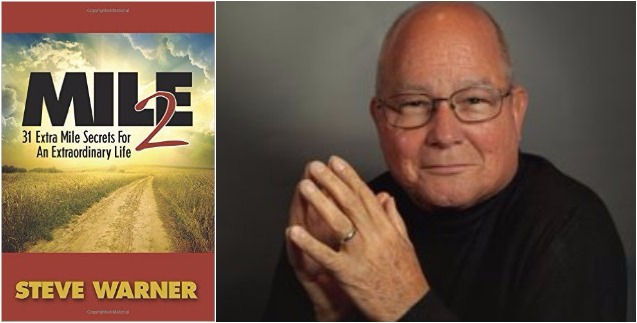 I asked my friend and mentor, Steve Warner to be a guest writer on my blog. He published a book called
Mile 2: 31 Extra mile secrets for an extraordinary life
. You can also listen to our interview with him in the
All About We Podcast
above. Steve shares insights on how to go the second mile in marriage. Enjoy the sage advice of my good friend. Recently I wrote a book entitled
"Mile 2: 31 Extra Mile Secrets for An Extraordinary Life"
. The foundational principle is that no one is born as an extra miler. We all emerge from the womb with similar attitudes – and none of them particularly altruistic. We want what we want when we want it. We are forceful, demanding, and egocentric. It doesn't matter that mom and dad want to sleep! Babies want to be served, not serve.
"Get up and take care of me, now!"
they seem to scream! This is normal, at least during infancy and early childhood. Babies and toddlers cannot fend for themselves. Understandably, they need special care. The problem emerges when, with increasing maturity, a person still has the attitude
"it's all about me"
. Such a person is a bona fide, card-carrying, stuck-in-the-mud "one miler". However, some people make an amazing discovery somewhere along the line. They realize that in the years since they were kicking the slats out of the cradle their philosophy of life has changed! It isn't any longer about them, but about others. The goal is no longer to walk one uneventful mile, but to go the Extra Mile.
What does an Extra Miler look like?
Well, they come in all shapes, sizes, ages, and backgrounds. They are distinguished by their actions, not by appearance. Simply stated, Extra Milers go over and beyond, anticipate needs, are generous and caring, cheerful, compassionate, and grateful. They don't wait to be served – they serve. They don't need the carrot or the stick to get moving. They are fueled by an inner dynamo, fueled by kindness as its own reward. [Tweet "Simply stated, Extra Milers go over and beyond, anticipate needs, are generous and caring, cheerful, compassionate, and grateful. "]
What does going the second mile look like in a marriage?
Most parents are pretty good at going the Second Mile for their children. Rides to soccer practice, money for school, trips to the emergency room – no problem. That's why moms and dads on the earth, right? But many of these acts of service for our offspring are done at the expense of becoming one milers within the very marriages that produced the children! Which brings us full circle back to this statement:
"The best thing parents can do for their kids is to love and respect their child's father or mother."
My wife and I have been married for 48 years. We have four grown children and seven grandchildren. Frankly, there were times as the kids were growing up when we had to remind one another of our first priority – us. We didn't want to raise a great tribe at the expense of our own relationship. So, while going the Extra Mile for our children (and now our grandchildren), we insisted on going the 2nd Mile for each other. What did that look like? It included…
Setting aside time to talk to each other – to listen – with eye contact.
Identifying each other's love languages – and acting upon that knowledge.
Helping each other when sick, under pressure, or when a bit discouraged.
Engaging in mutually loved sports – such as kayaking, biking, and hiking.
A few Christmases ago we realized that we were rushing through the holidays. While we cherished the Christmas season, we also both serve as pastors at a busy church. So, making the holidays enjoyable for others, while commendable, caused us to act like one milers toward each other. We were often rushed, cranky, and a bit resentful. That's when we decided to have our own "Twelve days of Christmas". Here's how it works… The 25th of every month is circled in red. The day before the 25
th
I pull out our only monthly decoration, a "Christmas penguin" appropriately named Mary Christmas. At each monthly Christmas celebration, we play carols, exchange small gifts, have a special meal, like candles, sing carols, and read the Christmas story. In this way, we put God and each other first. Sometimes we invite others to join us for the celebration. It has become a staple on our monthly agenda. In this way, if days leading up to December 25 are hectic, we still had – and will still have – Christmas eleven more times scattered throughout the year!
Finally, in an Extra Mile marriage is important to accept one another.
We can't force others to go over and beyond. A 2nd Mile that is enforced gives credence to the old saying:
"Discipline without desire leads to drudgery."
Going over and beyond is only fun and real when it comes from the heart. My job is to monitor myself – and my wife's assignment is to do the same in reference to herself. In sum, the above is one example of how the Extra Mile can be fleshed out within a marriage.
Save
Save
Save
Save
Save
Save
Save
Save
Save
Save
Save
Save
Save
Save
Save
Save
Save
Save
Save
Save
Save
Save
Save
Save